Charlotte Rene Woods December 10, 2018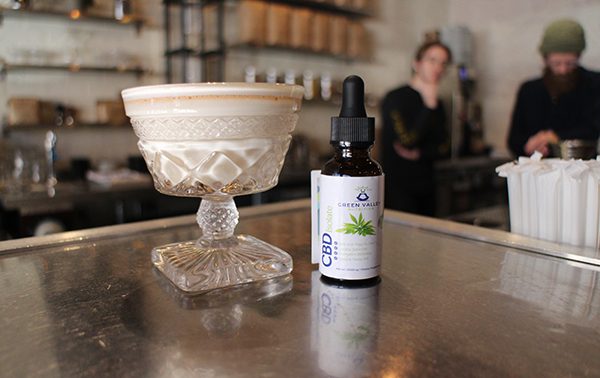 Noelle Archibald said Lamplighter wanted to "compliment the oily nature of the drink by making it something rich, creamy and decadent." (Charlotte Woods)
CBD oil continues to seep into Richmond.
Lamplighter Coffee Roasters, which has three locations in the city, this month began selling beverages with hemp-based cannabidiol (CBD) oil mixed in.
Its efforts are fueled by a relationship with Green Valley Nutrition, a Charlottesville-based company that produces a variety of hemp-based CBD products, including pills, oils and bath bombs.
Lamplighter now offers drops of Green Valley oil as a boost to all beverages, along with a new Daydreamer latte, which includes maca root and gogi berry.
"We chose the maca, gogi and maple because we wanted the beverage to be very healthful," said Noelle Archibald, co-owner of Lamplighter. "We didn't want to put it with cane sugar. We wanted to make sure all the ingredients were coming together in a way that was going to be beneficial."
It marks Lamplighter's leap into a trend that's begun flowing into Richmond in different forms, including CBD-infused lemonade at Ellwood Thompson's, an infused beer at Strangeways, and local head shop Kulture's sale of hemp-based CBD products, including oils, creams and gummies.
Dispensary will help market
While those all involve hemp-based products, the CBD trend is set to take its biggest local leap with the development of a dispensary that will produce and sell a different form of medical-grade cannabis oil products by prescription from a forthcoming facility in Manchester.
CBD products can be derived from hemp plants and marijuana plants. Both hemp and marijuana are considered cannabis sativa plants, though they are different sizes and contain different levels of tetrahydrocannabinol (THC), which is the component that allows users to get high.
Hemp-based products may be sold in Virginia – albeit because of a lack of regulation – but the plant can be grown in the state only for research purposes. Hemp has many uses and is already present in some paper, beauty products and textiles.
Green Valley's hemp is cultivated and processed in Kentucky, where Sen. Mitch McConnell has championed hemp production at the state level and will do so again in the 2018 Farm Bill.
Virginia's medical cannabis CBD facilities, like the one to be built in Manchester, are a result of the passage this year of House Bill 1251 in March. Congress's 2018 Farm Bill includes provisions that would make hemp federally legal.
CBD addresses health issues
CBD, which does not cause a high, has become popular in recent years among those looking to self-medicate for health issues such as anxiety and Post-Traumatic Stress Disorder, and to alleviate symptoms associated with illness or injury.
Dylan McMahon, who works in production at Lamplighter, is a friend of Green Valley founder Ethan Pompeo. He had been using the company's products to manage chronic pain from an accident and didn't want to take opioids. When Lamplighter staffer considered adding CBD oil to their beverages, McMahon suggested Pompeo's company.
"He (McMahon) has been a great advocate for me," Pompeo said. "It was kind of serendipity in a sense. Instantly I thought it would be a great partnership. They're (Lamplighter) hip and trendy in Richmond."
Pompeo said his CBD products are created by using carbon dioxide to isolate the CBD from the hemp, then undergo a process called chromatography that further processes the product.
Despite no state regulation, Pompeo takes authenticity seriously. He contracts with ProVerde Laboratories to test his products. The Massachusetts-based private company offers testing for pharmaceutical and medical marijuana industries.
Pompeo was inspired to form Green Valley while working on a farm in Colorado, where he was introduced to hemp. Pompeo has a rare condition called PANDAS (Pediatric Autoimmune Neuropsychiatric Disorders Associated with Streptococcal Infections). The condition results in a sudden onset of tics after a strep infection triggers an immune response in the brain.
"CBD was the only thing that I found helped with my motor tics and didn't make me feel like I was doped up on pharmaceutical drugs," Pompeo said. "It's helped me manage my life better. Not a miracle cure by any means, but it's definitely worth it in my opinion."
McMahon said the absence of regulation of hemp-based CBD has contributed to lack of education and lower-quality products. Virginia NORML, an organization that advocates nationwide for marijuana legalization, encourages consumers to use caution and do their research when purchasing hemp-based CBD.
"Some people can literally be left with a bad taste in their mouth and not see benefits to the product," McMahon said.
Taste was also a factor that contributed to Archibald's decision to use Green Valley.
"We liked the oil because it was virtually flavorless," he said
And just a week or two into its experiment with CBD, Lamplighter already is seeing positive results. While the Daydreamer latte is a seasonal product, Archibald said infusing drinks with CBD oil is going to be a mainstay for her business.
"Based on the popularity already on this one, we will likely adjust it to a cold beverage when the weather warms up," she said.